Philips Portable Micro Hi-Fi Music Sound System, CD Player, MP3-CD, CD and CD-R/RW, Dynamic Mega Bass Stereo Boost Speaker, USB Direct Input, and FM Radio, Compact Design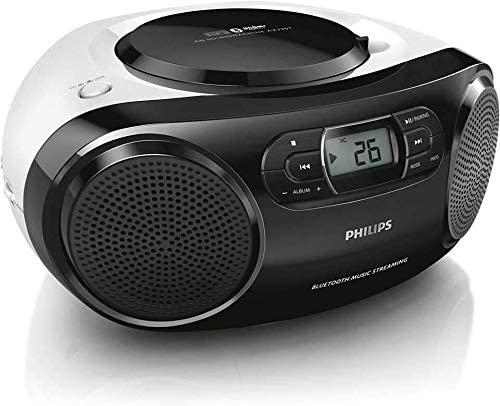 Philips Portable Micro Hi-Fi Music Sound System, CD Player, MP3-CD, CD and CD-R/RW, Dynamic Mega Bass Stereo Boost Speaker, USB Direct Input, and FM Radio, Compact Design
Stream music wirelessly via Bluetooth from your smartphone- Bluetooth is a short range wireless communication technology that is both robust and energy-efficient. The technology allows easy wireless connection to other Bluetooth devices, such as smartphones, tablets or even laptops. So you can enjoy your favorite music, sound from video or game wireless on this speaker easily.

Bass Reflex Speaker System delivers a powerful, deeper bass- Bass Reflex Speaker System delivers a deep bass experience from a compact loudspeaker box system. It differs from a conventional loudspeaker box system in the addition of a bass pipe that is acoustically aligned to the woofer to optimize the low frequency roll-off of the system. The result is deeper controlled bass and lower distortion. The system works by resonating the air mass in the bass pipe to vibrate like a conventional woofer.

Play MP3-CD, CD and CD-R/RW Audio Playback Loudspeakers Connectivity Tuner Bands: FM Stereo Compact design Bass Reflex Speakers deliver deep and powerful bass

USB Direct for easy MP3 music to the complete file transferability, you can easily enjoy the convenience and fun of accessing more digital music via the built-in USB Direct.

Stereo headphone jack for better personal music enjoyment- Connect your own headphones with this Philips device for a more personal listening experience whenever you want it. You can enjoy your favorite music in great sound without disturbing others by connecting your headphones to this device.